This is not a "character" or simply a role I play. I became a Professional Dominatrix in 2003 because I was a lifestyle player and wanted My passions to become My profession. Everything I have learned in higher education is applicable to this. I chose this path in life because I am always learning something new, can be dynamic, creative, and make My own rules.
My start at Jade's Dungeon in Chicago exposed Me to a wide variety of things and people in the BDSM world. It forced Me to be resourceful-to find mentors and knowledge on My own. As time passed, I ended up managing what became Queen's Realm and teaching The Discovery Center of Chicago's, "Intro to BDSM", and "Networking For Kinky People" classes. In 2005 I decided to go independent to call My own shots. I was contacted to present at Northwestern University and discuss both the lifestyle and profession. UIC also invited Me to sit on a panel to discuss feminism, fetishism, BDSM, and porn.
In 2012 I was asked to be one of the Mistresses of Ceremonies for DomCon LA and was a Guest of Honor the following year. The summer of 2016 marked My official relocation from Chicago to South Florida.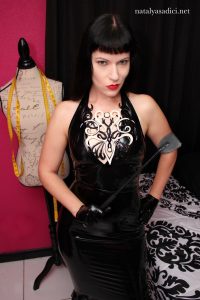 Though I am at ease discussing my lifestyle and profession, I am aware others do not have the luxury of being "out" like me. Discretion is, and always will be, paramount in my private sessions. I continue on this deliciously devious and happily perverse path with the hope to connect with more like-minded slaves, sluts, spankos, masochists, and fetishists in sessions and events. May you suffer happily to put a smile on my face.